Warpstock Europe 2016
May 20, 2016 by admin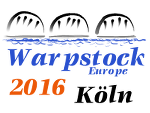 The OS/2 VOICE foundation is proud to announce that the Warpstock Europe 2016 conference will be held in Cologne, Germany in May. Hosted in the Youth hostel Köln-Riehl (link) you can enjoy 2 days of interesting presentations, meetings and socializing.
When: Saturday, May 21 and Sunday, May 22 2016.
Registration is closed, but you can still tune in using the live stream and participate through IRC.